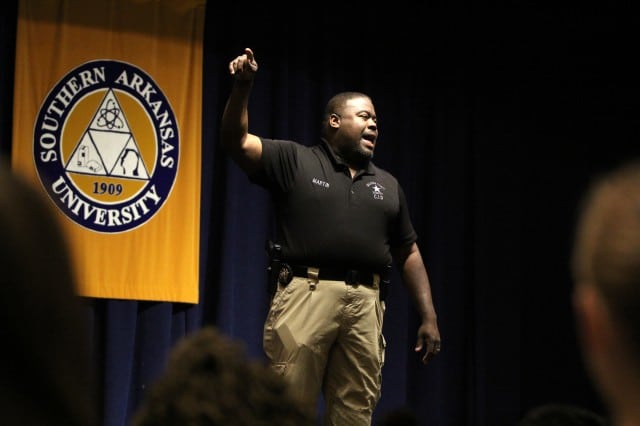 The three TRIO programs at Southern Arkansas University recently came together to celebrate the mission of education and to write to their representatives to encourage votes to in support of continued federal funding.
TRIO Day at SAU bonded more than 100 students from the Upward Bound, Talent Search and Student Support Services programs on Saturday, February 22, 2014.
As a part of the day's festivities, the students took time to write to Congressman Tom Cotton and Senators John Boozman and Mark Pryor. According to SAU Upward Bound Director Carla Williamson, the students expressed what these federally funded programs mean to their success. Williamson said these notes will be delivered to the representatives in Washington D.C. next month.
"We truly believe all of our students should have the opportunity to achieve a college education," said Williamson. "TRIO Day is meant to focus the nation's attention on the needs of disadvantaged students aspiring to improve their lives through higher education, and we know that TRIO works."
Leroy Martin was a highlight of the day's events as he drew upon his experiences as an evangelist, a detective with the Columbia County Sheriff's Department, and an alumni of SAU to encourage the youth to take advantage of every opportunity they get.
"We were grateful to Evangelist Leroy Martin as he came to share his educational experiences and encourage our students. He emphasized the importance of education and how each student should continue to focus on their goals of achieving a college education," said Williamson.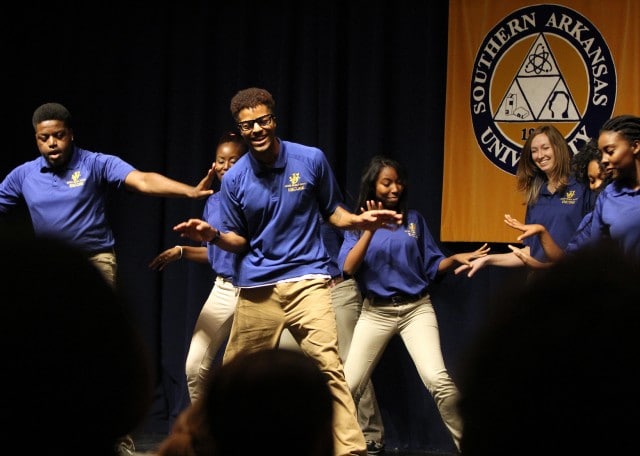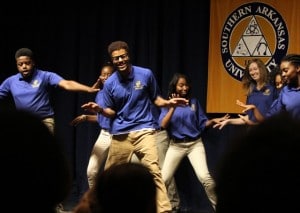 SAU's song and dance recruiting group Encore also serenaded the group and got them excited about higher education. The TRIO students also participated in team building and team spirit workshops.
Upward Bound serves 180 low-income and first-generation ninth- through twelfth-grade students from Columbia, Hempstead, Lafayette, Nevada, Ouachita, Miller and Union counties. Upward Bound programs nationwide are also celebrating "50 Years of Upward Bound." The SAU Upward Bound program has been in existence for 49 years.
Talent Search serves 503 low-income and first-generation sixth- to twelfth-grade students from Columbia, Lafayette, and Union counties. Student Support Services serves low-income and first-generation college students by providing services that help to improve retention and graduation rates.
Each year, on the last Saturday of February, high school and college students, teachers, members of Congress, local officials, TRIO Program staff, participants, alumni and others hold programs to commemorate the positive impact of Federal TRIO programs in our communities throughout the nation. It is a day of reflection and action around increased access to higher education for disadvantaged students.
According to the U.S. Department of Education website, federal TRIO programs began with Upward Bound through the Economic Opportunity Act of 1964 in response to the administration's War on Poverty. In 1965, Talent Search, the second outreach program, was created as part of the Higher Education Act. In 1968, Student Support Services, which was originally known as Special Services for Disadvantaged Students, was authorized by the Higher Education Amendments and became the third in a series of educational opportunity programs. By the late 1960's, the term "TRIO" was coined to describe these federal programs.
Over the years, the TRIO Programs have been expanded and improved to provide a wider range of services and to reach more students who need assistance. Those programs include Educational Opportunity Centers, Training Program for Federal TRIO Programs, the Ronald E. McNair Postbaccalaureate Achievement Program, and the Upward Bound Math/Science program to address the need for specific instruction in the fields of math and science. Finally, the Omnibus Consolidated Appropriations Act of 2001 amended the Student Support Services (SSS) program to permit the use of program funds for direct financial assistance (Grant Aid) for current SSS participants who are receiving Federal Pell Grants.