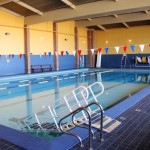 Participants in the spring Senior Wellness aquatic class at Southern Arkansas University will enjoy a renovated Aquatic Center.
Spots are still available for the exercise class, which meets at 9 a.m. on Mondays, Wednesdays and Fridays from January 22 through May 2, 2014.
Sandi Alston is the instructor for the class. Cost of the semester-long program is $60.
The SAU Aquatic Center has seen many changes over the past year. Aesthetically, the facility has been "branded" blue and gold with fresh paint. New tiles have also been put down. Whitley Patterson also took charge of the facility as coordinator of the Aquatic Center.
For more information about the SAU Aquatic Center, visit www.SAUmag.edu/AquaticCenter. To find out more about the Senior Wellness class, e-mail MarianneWoodard@saumag.edu.