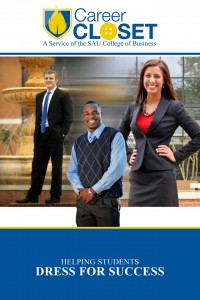 The College of Business at Southern Arkansas University is seeking donations of contemporary, interview-appropriate clothing and accessories for their Career Closet for their students.
The College of Business is seeking help from the community to help build the inventory of the Career Closet. Specific needs include professional suits and separates for men and women of all sizes; accessories like scarves, ties and belts for men and women; and shoes in all sizes for men and women. The Career Closet also needs clothing and shoe racks, display mannequins, signage and other basic clothing store fixtures.
Once the Career Closet is up and running, currently enrolled students at the College of Business will be able to pick out up to four individual apparel items per semester or one suit during an academic year. The clothes they take are theirs to keep free of charge, said Traci Hughes, SAU business instructor.
"The purpose of the new SAU College of Business Career Closet is to advance the professional appearance and confidence of our students by providing interview and work appropriate clothing," said Hughes. "It will help students with their professional dress needs for interviews, career fairs, and professional conferences and competitions. Many students do not have the money to purchase appropriate attire for these activities – the Career Closet will help with this and provide an educational opportunity as well."
Clothing to be donated should be in good condition, on hangers and ready to wear. It is preferred that clothing be less than five years old and/or contemporary in style.
"Please donate items you would feel comfortable wearing on an interview yourself," said Hughes.
If you would like to help the Career Closet project, but do not have clothing to donate, any financial donations would also be appreciated, said Hughes. All financial donations to the Career Closet should be sent to the SAU Foundation at P.O. Box 9174, Magnolia, AR 71754. Please mark C.O.B. Career Closet on the memo line of check so that your donation can be designated appropriately.
For more information about the SAU College of Business Career Closet, contact Hughes at (870) 235-4298 or TraciHughes@saumag.edu.