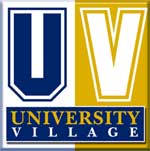 During a telephone conference call Tuesday, February 11, 2014, the Southern Arkansas University Board of Trustees voted unanimously to facilitate the refinancing of bonds to take complete ownership of the University Village Apartments, a student housing complex at SAU.
A bond pledging auxiliary revenues not to exceed $10,000,000 with an interest rate of approximately five-percent is needed to pay off the 2003 bonds issued for construction by Collegiate Housing Foundation (CHF). CHF owns the buildings at the University Village (UV) and leases them to SAU. Upon payment of the bonds, the UV will become SAU property free and clear of all obligations.
CHF was selected in 2003 to build the University Village, using what is referred to as off-balance sheet financing. This is a common practice in higher education to complete and fund projects. The bonds have passed the 10-year mark, and the penalty clause for early payment has expired.
The 2003 bond was issued for 30 years and had 20 years remaining. This 2014 bond issue will be for the same 20-year term that remained for the 2003 issue. There will be an average savings to the University of $125,000 annually from interest, fees, insurance and audit costs.