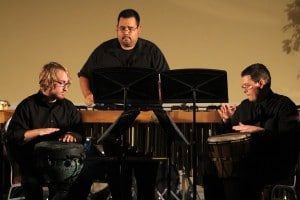 The Southern Arkansas University Percussion Ensemble is offering a free concert at 7:30 p.m. Tuesday, April 29, 2014, in SAU's Harton Theatre.
"This concert will include a wonderful variety of styles and sounds. Featuring music and instruments from all across the world, there is truly something for every taste," said Director of Percussion Michael Britt, who will be directing the eleven-member student percussion group.
Josh Withem, senior from Haltom City, Texas, will be playing his last concert with the ensemble. He will be featured on the vibraphone during the piece "Until Morning Sings" by David Reeves. It is an up-tempo, festive work in the style of a Latin Samba. Withem is also featured on the timbales on "Scojo Madness" by Davila and Johnson, arranged by Britt. He is joined as a soloist on this tune by Joshua King, freshman from Lorena, Texas, on the snare drum. "Scojo Madness" is a high energy "jam" piece in a Latin Songo style.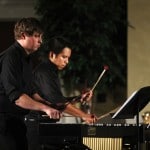 King was also recently featured in an SAU feature video and "Complete College Experience" commercial. King is known for his dedication and work ethic – practicing long hours. The video demonstrates King's rehearsal regimen as it shows him drumming in the rain and in his SAU residence hall room, leading up to his performance at an SAU football game. The video can be seen at www.YouTube.com/SAUmag.
The concert is free and open to the public. It is being presented by the College of Liberal and Performing Arts at SAU and the Department of Music.