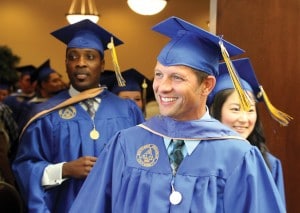 Summer Commencement ceremonies at Southern Arkansas University are scheduled for August 8, 2014, at the Reynolds Center Grand Hall.
A total of 58 School of Graduate Studies candidates are slated to be honored at an 11 a.m. ceremony. Then at 1 p.m., 35 undergraduate candidates will be recognized from SAU's four academic colleges.
A graduation reception hosted by the Office of Alumni Relations for graduates, family, and faculty will take place from 11 a.m.-1 p.m. in the Reynolds Center Blue and Gold Cafeteria.
William "Bill" Stringfellow, chair of the SAU Board of Trustees, will provide the commencement address for both ceremonies. He graduated from SAU in 1959 with a Bachelor's in Business Administration with a double major in accounting and economics. He was recognized as a Distinguished SAU Alumni in 2007.
He retired as Executive Vice President and General Counsel in 2005 from Rebsamen Insurance, Inc., in Little Rock. During his 30 years of service, he established two major profit centers. From 1977-79, he took a leave of absence from Rebsamen after being appointed by Governor David Pryor to serve an umbrella department for 13 state regulatory and natural resource agencies. From 1975-77, he was appointed by Pryor and served as Chairman of the Arkansas Commemorative Commission and adviser to the Arkansas Department of Natural and Cultural Heritage.
Prior to Rebsamen, he worked for 13 years at The Travelers Insurance Company, during which he obtained a law degree from the University of Arkansas School of Law. He is also an Education for Ministry graduate from the University of the South Theological Seminary, a four-year program for laity.
He served the United States Air Force from 1953-1961, with the first four years being active duty. He was a crew chief and flight engineer on cargo and troop carrier aircraft, where he attained the rank of Staff Sergeant.
He and his wife, Betty, have been married more than 60 years. They have been members of Christ Episcopal Church in downtown Little Rock for more than 50 years. They are also members of the SAU Foundation Honors and Legacy Societies in recognition of their financial and personal support of SAU. He has also served several years on the SAU Foundation Board of Governors, where he has held the positions of secretary and president. He was appointed in January 2011 by Governor Mike Beebe to a five-year term on the SAU Board of Trustees.