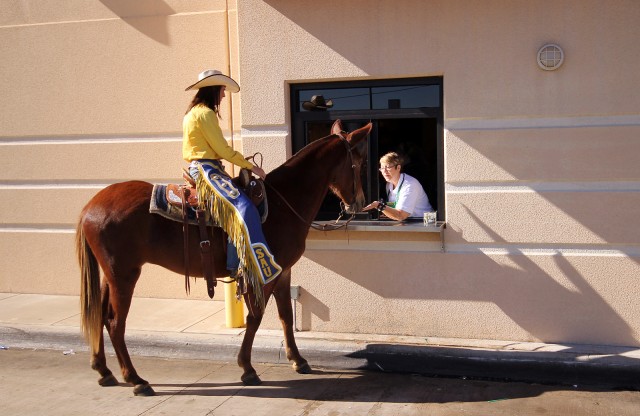 During a commercial shoot featuring the Mulerider from Southern Arkansas University, several Texarkana residents recently jumped at the opportunity to be in the production and show off their acting chops.
"We knew we would turn some heads as we filmed our Mulerider galloping across Texarkana on a mule," said Aaron Street, assistant dean of integrated marketing at SAU. "But we were blown away at how open the bystanders were to participating in the commercial shoot."
Liz Dennis, a barista at Starbucks, played it cool as she took a coffee order from the Mulerider, senior SAU business student Megan Maye from Mena. Maye was atop the University's mascot mule, Molly Ann, who surprisingly did not hesitate to jump in the drive through line behind a big truck and in front of a minivan during the video shoot on November 7, 2013.
Dennis asked Maye, "Does your four-legged friend need anything this morning?"
Maye responded that the Mule might be hungry for some oats, to which Dennis quickly quipped that Starbucks offers all-natural oatmeal. The scene at the drive through created quite a social media buzz and a lot of Richmond Road rubber-necking.
Maye and Molly Ann were in town with staff from SAU Communications to film a promotion for SAU's class offerings in Texarkana starting in spring 2014. The classes will be held in a classroom at the new Hampton Inn near the Arkansas Convention Center in Texarkana, Ark. The commercial will air at the Cinemark Texarkana 14 movie theatre starting November 1, but can be seen online at www.SAUmag.edu/Texarkana.
As the classes this spring are geared toward nurses looking to further their careers, or for those hoping to get started in nursing, the crew filmed the Mulerider running near the scenic Christus St. Michael and Wadley hospitals.
To make sure the Mulerider was safe from a trip back to one of the hospitals, Texarkana Arkansas Police Cpl. John Knouse led mascot on his patrol motorcycle up Stateline Avenue near the downtown courthouse for a part of the shoot. SAU Master's of Public Administration graduate alum Kristi Mitchell, TAPD public information officer, held off traffic from approaching from behind the mule.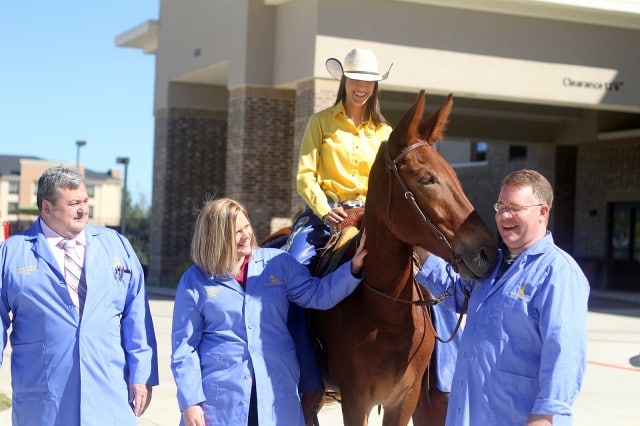 Judy Dossey, of Texarkana, Ark., was enjoying a morning walk with her one-year old golden retriever, Murphy, when she was approached by the crew. She graciously allowed Murphy to have a starring role in the shoot, after he and Molly Ann were cautiously introduced. A few sniffs later, the Mulerider galloped past Murphy, who played the surprised dog perfectly.
SAU's main campus is located in Magnolia, Ark., but the University has been offering classes in Texarkana for more than a decade. With the new location at Hampton Inn, and increased offerings slated for next fall, SAU is waiving the out-of-state tuition fee for residents of Bowie County, Texas.
SAU also reached a record enrolment this fall, in part thanks to more students coming from the Texarkana and West Texas region. The Office of Admissions is now on the road promoting SAU's Complete College Experience to the incoming class for the fall of 2014.
To find out more about classes in Texarkana, visit www.SAUmag.edu/Texarkana, and to learn more about SAU visit www.SAUmag.edu.