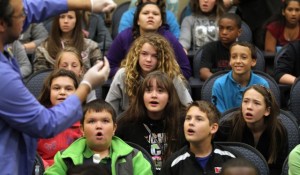 More than 350 7th through 12th grade students witnessed the wonders of science and got hands-on experience Friday at the Southern Arkansas University Science Center Open House.
The intent of the Open House is science outreach and recruiting. This is the third year for the Open House, and activities such as this have helped enrollment for the College of Science and Technology and SAU steadily rise. This semester, enrollment for both SAU and the College of Science and Technology reached record levels, with the University at 3,404 and Science surpassing 1,000 at 1,046 students.
"So many students and teachers, even within an hour's drive of SAU, do not know about the high-level of scientific and engineering equipment we have available for instruction and research," said Dr. Scott White, SAU chemistry professor and STEM Center director. "They have a real treasure of resources available here, right in their own backyard. Events like this Open House are definitely making an impact."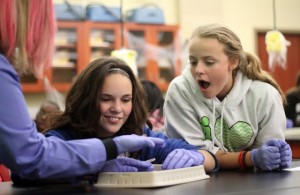 Schools that participated in this Open House include: Columbia Christian High, Camden-Fairview High, Harmony-Grove High, Magnolia High, Magnolia Junior High, Parker's Chapel High and Smackover High School.
The Open House Activities were divided in an Advanced-Placement Track and a non-AP-track to accommodate smaller groups with higher-level activities for the AP students, according to White.
AP students and teachers participated in hands-on activities in Biology and Engineering, observed Computer Simulation demonstrations and toured the instrumentation available for professional and student-research at the Natural Resources Research Center (NRRC).
Non-AP students participated in hands-on activities that included dissecting sheep eyeballs, owl pellets and fish, conducting experiments with chromatography, polymers, and Biochemistry.  They also enjoyed exciting demonstration from the Chemistry and Physics faculty and students.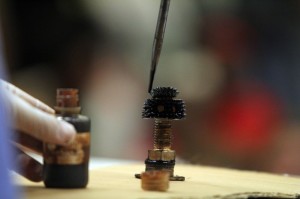 The event is supported by SAU; the Department of Biochemistry, Chemistry and Physics; the Department of Biology; and the Department of the Math and Computers Science. Special support was also provided by the SAU STEM Center for K-12 Education.
"We have teachers asking us every year if we will continue to offer this event," said White. "The Science faculty is dedicated to being ambassadors for science and science instruction at SAU. An event like this requires a lot of work, and I am really proud of our faculty and facilities. The kids enjoy it and we have been very satisfied with the results."
To find out more about SAU and the College of Science and Technology, visit www.SAUmag.edu/Science.
Check out more photos from the SAU Science Open House on Facebook.