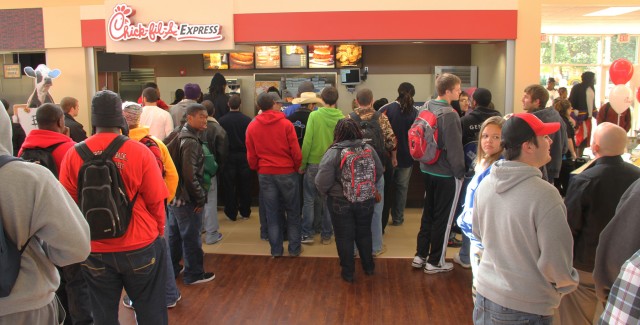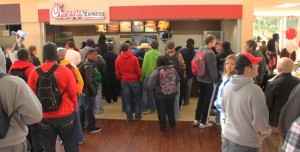 It is hard to believe it has been a year since the savory aroma of Chick-Fil-A first enticed students and the community to the Southern Arkansas University Food Court, but on Wednesday, October 30, 2013, the popular eatery will celebrate its first anniversary.
To commemorate the event, there will be a short ceremony Wednesday at 10:15 a.m., with cake and punch at 10:30 a.m. Members of the student body, faculty and staff, and community are invited to come celebrate. Several drawings for the students, faculty and staff will take place throughout the day.
To show appreciation for community support, the SAU Chick-Fil-A is planning more events to come. A Kids Night on Tuesday, November 12, will allow two children to dine for free with one paying adult.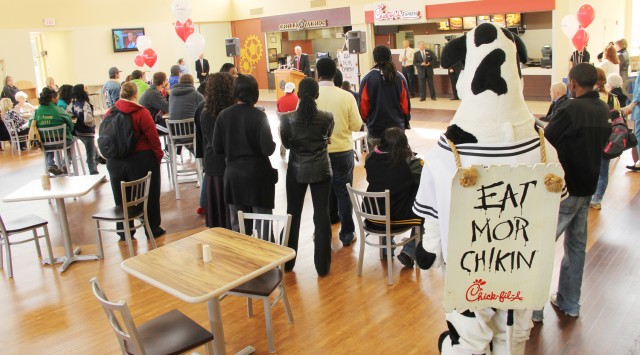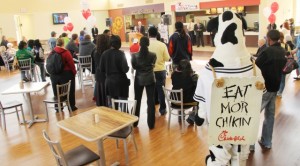 The SAU Chick-Fil-A is open from 10:30 a.m. to 8 p.m. on Monday through Friday and from 10:30 a.m. to 6 p.m. on Saturdays.
To find out more, visit www.SAUmag.edu and search for food court. You can also stay in touch by liking the Bruce Center Food Court page on Facebook.
###