MAGNOLIA – Pop music duo Karmin is set to headline the fifth annual free spring concert at Southern Arkansas University on Thursday, April 11.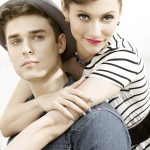 The concert will take place at the SAU track, and admission is free for students and the public. Gates will open at 5 p.m., the opening act is at 6:45 p.m. and Karmin hits the stage at 8 p.m.
Karmin is an American pop duo consisting of Amy Heidemann and Nick Louis Noonan. The two lit up the Internet in April of 2011 with a cover of Chris Brown's "Look At Me Know" on their YouTube channel Karmincovers, which boasts 213 million views and more than a million subscribers. They are best known for their hit single, "Brokenhearted," which they showcased on Saturday Night Live in February of 2012. The song tells the story of when Amy and Nick first met, made it the top 20 in the U.S. charts and is on their debut album, "Hello."
Amy describes the album as an introduction to Karmin. "It's a new sound – we like to call it 'swag-pop.' You're going to hear the catchy hooks and the crazy rap verses with lots of wordplay," says Amy. "There's humor, but there are deep, meaningful messages buried within the playfulness."
Karmin's style and wordplay has garnered plenty of critical acclaim. "Homegirl is a master emcee. Seriously. Don't let the Charlotte-from-Sex-And-The-City-façade fool you — this girl can THROW. IT. DOWN," says an MTV.com critic. "No offense, Busta Rhymes, but I think this girl just schooled you."
Before Karmin takes the stage, AJ Hernz will be the opening act. Back by popular demand, AJ blew the crowd away with his opening performance for Shawn Kingston two years ago. Check out AJ at ajhernz.com.
The spring concert series at SAU began during the University's 2009 centennial celebration. Previous performers have included former SAU student and country music star Tracy Lawrence, Eric Hutchison, Sean Kingston and Thompson Square.
Admission to the concert is free.
For more information on the concert, contact the Office of Student Activities at (870) 235-4925.