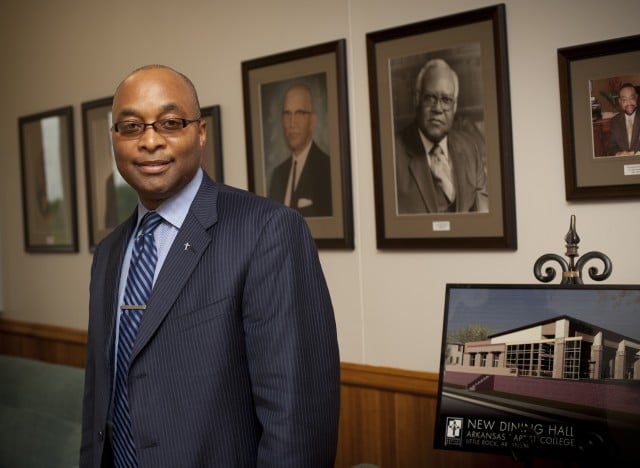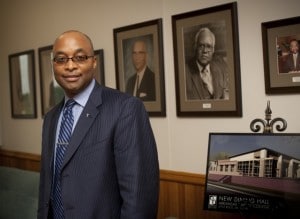 Dr. Fitz Hill, president of Arkansas Baptist College, will present the annual Southern Arkansas University Kathleen Mallory Distinguished Lecture Series at 7 p.m. on Thursday, October 24, in the Reynolds Center Foundation Hall.
Hill's speech is entitled, "Arkansas Baptist College – How an Institution is attempting to 'Put the Neighbor Back in the Hood.'" The event is free and the public is invited to attend.
On February 1, 2006, Hill was selected as the 13th president of the 129-year-old Arkansas Baptist College. The former San Jose State Spartans head football coach also serves as a guest lecturer and research associate under the leadership of Dr. Richard Lapchick at the University of Central Florida's Institute for Diversity and Ethics.
After publishing numerous journals and articles, Hill, with award winning sports columnist Mark Purdy of the San Jose Mercury News, most recently completed his first book – "Crackback! How College Football Blindsides the Hopes of Black Coaches."
Hill received degrees in communications and physical education from Ouachita Baptist University in 1987. He received a master's degree in Student Personnel Services from Northwestern State University in Natchitoches, La., where he served as a graduate assistant football coach during the 1988 football season. In 1989, he served as a graduate assistant football coach for the Arkansas Razorbacks. His coaching duties were interrupted when he was summoned to military duties in 1990. The veteran received the Bronze Star and Commendation Medal for services in Operation Desert Shield and Desert Storm. He served on the Razorback football coaching staff for five different head coaches during his 12-year tenure there.
Since assuming the presidency at Arkansas Baptist College in 2006, the College has been reaccredited by North Central Higher Learning Commission, received the largest private gift from an individual in the college's history, and launched a $30 million capital campaign that includes a community redevelopment component for the neighborhood. The College has also received the largest federal grant for the renovation of Old Main since its inception, and enrollment has increased from less than 200 students to more than 1,100 as a result of the academic outreach programs. In addition, the College's budget has increased from $2 million to nearly $20 million since his arrival.
While he has been the recipient of a variety of awards, two of Hill's greatest accomplishments came in 2009 – being honored by the Boys and Girls Club of Central Arkansas as "Leader of the Year" and winning "The Stars Come Out, Inc. Celebrity Dance Showcase" with his oldest daughter Destiny as his leading lady.
Hill is married to Dr. Cynthia Hill. The couple has two daughters, Destiny and Faith, and one son, Justice.
The mission of the Kathleen Mallory Distinguished Lecture Series is to honor Dr. Mallory's many contributions to Southern Arkansas University, to the community, and to the state of Arkansas by bringing scholars working in the fields of African Diasporic and African American Studies to SAU to share their scholarship with students, faculty, staff, and members of the community.
To contribute to the Kathleen Mallory Distinguished Lecture Series endowment fund, please contact Dr. Linda Tucker at 235-4210 or Jeanie Bismark at 235-4078. All donations, large and small, will be greatly appreciated.
###