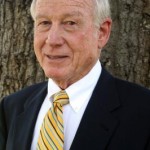 Ronnie Ribble has been appointed by Arkansas Governor Mike Beebe to serve on the Southern Arkansas University Board of Trustees.
Ribble will fill the vacancy on the board left by Kelvin Wyrick of Texarkana who was appointed by Beebe in May as an Arkansas Circuit Court Judge, Division 2 of the 8th Judicial District South. Ribble said he is pleased about the opportunity to serve on the University board of trustees.
"I have always been a supporter of SAU either in presence at athletic or other events, and providing financial assistance, since I graduated," Ribble said. "It is an honor to serve the University in this capacity as well."
A 1958 graduate of Southern State College, which became known as Southern Arkansas University in 1976, Ribble has supported the University on many levels. Those levels include serving as a charter member of the Board of Governors of the SAU Foundation from 1979 to 1985 and as chairman of the board of governors from 1984 to 1985. He has also provided a fully endowded scholarship for a student at SAU and provided funds for the new Southern Arkansas University sign located in front of Overstreet Hall. The sign was in memory of his late wife, Pat, who graduated from SAU in 1956.
Ribble grew up in Eudora, Ark., which is in the southeastern part of the state, but moved to southwest Arkansas to play football for Southern State College after receiving a football scholarship from the college in 1954. He received the SSC Sportsmanship Award in 1957-1958. After graduating with his bachelors of science in 1958, Ribble went on to spend 30 plus years in Magnolia working for a business which was known as Southern Extrusions which is today known as Alcoa.
Ribble's other ties to Magnolia include service to the Magnolia/Columbia County Chamber of Commerce as president, Magnolia Rotary Club, Magnolia City Hospital and First United Methodist Church.
Ribble and his wife Camille live in Hot Springs. They have five children and seven grandchildren.
SAU President Dr. David Rankin said he is pleased with the appointment and is looking forward to working with Ribble.
"Mr. Ribble will be an outstanding member of the SAU Board of Trustees. He has supported the University in many different capacities over the years and will bring a wealth of experience to this important position," Rankin said.