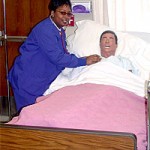 She has traveled around the world and across the United States, but Julia Smith is proud of the fact that she calls Magnolia home.
"I love Magnolia," said the senior nursing student from Magnolia. "This is my hometown, and I love doing what I can for my community."
Her goal is to become a nurse practitioner and open an office in Magnolia. According to Julia, a nurse practitioner is a registered nurse with advanced academic and clinical experience, which enables her to diagnose and manage most common and many chronic illnesses, either independently or as part of a health care team. A nurse practitioner also provides some care previously offered only by physicians and in most states has the ability to prescribe medications.
"I want to give back to my Magnolia and see what I can do for community members," said the 1998 graduate of Magnolia High School.
Although she will have to attend another institution to further her education, Julia feels that SAU has prepared her well to attain her goal.
"SAU has given me a great starting point in my career," she said. "The faculty and staff at SAU are very helpful. They want you to succeed in life, and they show you all of the opportunities available."
When she is not attending class, clinicals, or taking care of her husband and daughter, Julia serves in the National Guard. She credits her big brother for her military career.
"My brother joined the Army right after high school, and I wanted to follow in his footsteps, so I joined right after graduation," she explained.
She was active for four years until she met her husband and they decided to start a family. That is when she became involved with the National Guard.
Though there may be more travel in her future, Julia is more than happy to stay close to home and her family for now.