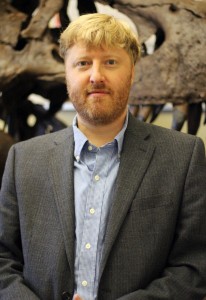 Dr. Abraham Tucker
Assistant Professor of Biology & Embree Professorship
Address
P.O. Box 9222
Building/Office: Science (SCI)
Slot Number: 14
Classes
| | |
| --- | --- |
| BIOL 1111 | University Biology II |
| BIOL 3033 | Genetics |
| BIOL 3553 | Wildlife and Conservation Genetics |
| BIOL/CSCI 3713 | Bioinformatics |
| BIOL 3763 | Evolutionary Biology |
| BIOL 3903/3091 | Human Genetics/Lab |
| BIOL 4101 | Biology Colloquium |
| BIOL 4502/4512 | Molecular Biology |
| BIOL 4891 | Independent Research |
| BIOL 4692 | Advanced Topics |
Research Interests
Genome Biology
Evolutionary Biology
Population Genetics/Genomics
Molecular Evolution
Educational Background
B.S., Biology, University of Southern Maine
Ph.D., Genetics, University of New Hampshire
Postdoctoral Researcher, Dept. of Biology, Indiana University
Publications
Keith RN, Tucker AE, Jackson C, Lucas-Lledo I, Shrider D, Schaack S, Lynch M (2014)The rate and molecular spectrum of spontaneous mutations inDaphnia pulex. Manuscript in preparation (in prep).
Denton JF, Warren C, Lugo-Martinez J, Tucker AE, Schrider DR, Hahn MW (2014) Extensive error in the number of genes inferred from draft genome assemblies. PLOS Computational Biology (in press).
Li W, Kuzoff R, Chen KW, Tucker AE, and Lynch M (2014) Characterization of newly gained introns in Daphnia populations.Genome Biol Evol published online August 14, 2014: evu174v1-evu174.
Mahato S, Morita S, Tucker AE, Liang X, Jackowska M, et al. (2014) Common Transcriptional Mechanisms for Visual Photoreceptor Cell Differentiation among Pancrustaceans. PLoS Genet 10(7): e1004484. doi:10.1371/journal.pgen.1004484
Tucker A, Ackerman M, Eads B, Xu, S, Lynch M (2013) Population-genomic insights into the evolutionary origin and fate of obligately asexual Daphnia pulex. Proc Natl Acad Sci. USA. 110:15740-15745
Sung W, Tucker A, Doak TG, Choi J, Thomas WK, Lynch M (2012).  Extraordinary genome stability in the ciliate Paramecium tetraurelia.  Proc Natl Acad Sci 109(47):19339-44.
Colbourne,J K, Pfrender,  ME, Gilbert,D., Thomas,W K, Tucker, A et al. (2011) The ecoresponsive genome of Daphnia pulex. Science 331: 551-561.
Walker CW, Van Beneden RJ, Muttray AF, Böttger SA, Kelley ML, Tucker AE, Thomas WK (2011). p53 Superfamily proteins in marine bivalve cancer and stress biology. Adv Mar Biol 59:1-36.
Sung, W., Tucker, A., Bergeron, D., Lynch, M., and Thomas, W. K. (2010) Simple sequence repeat variation in the Daphnia pulex genome. BMC Genomics 11: 691.
Li, W*, Tucker, A*, Sung, W, Thomas, WK, and Lynch, M (2009) Extensive, recent intron gains in Daphnia populations. Science 326: 1260-1262.
Porazinska, D L, Giblin-Davis, RM, Faller, L, Farmerie, W, Kanzaki, N, Morris, K, Powers, TO, Tucker, AE, Sung, W, and Thomas, WK (2009) Evaluating high-throughput sequencing as a method for metagenomic analysis of nematode diversity. Molecular Ecology Resources 9(6):1439-50.