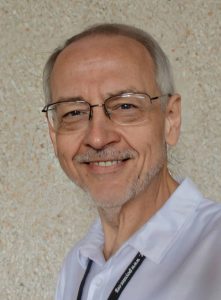 James E. Reppert is an Associate Professor of Mass Communication at Southern Arkansas University. Social media are used as teaching and research tools across the curriculum.
He has made over 160 presentations at regional and national conventions of professional associations and has 80 publications. Reppert has been a manuscript reviewer for over 20 college mass communication and speech textbooks.
Reppert has been competitively selected for participation in 24 faculty media seminars, including the Academy of Television Arts & Sciences, C-SPAN in the Classroom, the National Association of Television Program Executives, and The Poynter Institute for Media Studies. His case study team appraising "Curriculum 2000" won the Stephen H. Coltrin Award for Excellence in Communications Education ($2,500) at the 1999 International Radio & Television Society Foundation Faculty/Industry Seminar in New York City.
Reppert is a three-time Kentucky Communication Association Teacher of the Year (2000, 2006, 2016), Scholar of the Year (1997), and Undergraduate Mentor of the Year (2007). He has received KCA awards for Outstanding Scholarship in Mass Media Studies (2013) and Outstanding Instruction in Mass Media (2014). Reppert received the KCA Presidential Award for Distinguished Service (2009) as recognition for career achievements in teaching, scholarship, and service.
A member of the SAU faculty since 1987, Reppert holds an M.A. in Communication Studies from the University of Nevada, Las Vegas, and a B.U.S. in University Studies from North Dakota State University. He graduated from Brown Institute (Minneapolis) in Radio-Television Broadcasting and acquired a First Class Radiotelephone Operator License from the Federal Communications Commission.
Educational Background
B.U.S., North Dakota State University
M.A., University of Nevada at Las Vegas