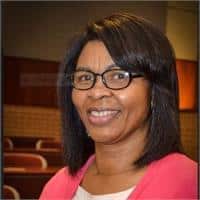 Introduction
Dr. Horsman is an Associate Professor of Counselor Education. She teaches core and Clinical Mental Health Counseling track-specific courses.
Biographical Information
Dr. Horsman's academic preparation includes a bachelor's degree in Communication Training from George Mason University, a master's degree in Vocational Rehabilitation Counseling from the University of Texas-Pan American, a master's degree in Instructional Design, eLearning, and Online Teaching from the University of Wisconsin Stout, and a doctorate in Counselor Education and Supervision from Southern Illinois University Carbondale. Before coming to SAU, she taught at the University of Arkansas at Little, where she was recognized as a distinguished teaching fellow in three academic years. She founded and directed a faith-based free clinic in Little Rock for five years and served on the board of directors at The Gaines House, a transitional residence for women with disabilities in Little Rock, for over three years. Dr. Horsman is an Arkansas Licensed Professional Counselor (LPC), a Certified Rehabilitation Counselor (CRC), and a Certified Forensic Mental Health Evaluator (CFMHE).
Educational Background
Ph.D., Rehabilitation Counselor Education, Southern Illinois University Carbondale, Carbondale, IL
MSEd., Instructional Design/eLearning and Online Teaching, University of Wisconsin Stout, Menomonie, WI
M.S., Vocational Rehabilitation Counseling, the University of Texas-Pan American, Edinburg, TX
B.I.S., George Mason University, Fairfax, VA
Research Interests
Correlates of underage drinking and adulthood substance use disorders and other disabling conditions
Role(s) of ethnicity/race, culture, spiritual beliefs and practices, sexual orientation, and socio-economic background in counseling relationships
Culturally informed mental health services with special focus on underserved, indigenous, and immigrant populations
COVID-19-induced psychological distress and mental illness