In the Cyber Security and Privacy program, students will learn how to thwart cyber attacks and how to design privacy and security compliant systems to protect computer systems and sensitive data.
Why cybersecurity at SAU?
Research & Service Experience: Interested students will have the opportunity to participate in the advanced research projects and publish research papers. They can also earn real life work experience by getting involved in the cyber security services SAU offers to its clients. Our students will have a hot resume for their graduate school too.
Dual Expertise and High Demand: Cybersecurity challenges from the rogue parties pose serious threats to our existence. There is, however, a great shortage of experts who can neutralize these threats. With the dual and complementary expertise in security and privacy, our graduates will be in high demand in the top paying job markets.
Content on Recent Advancements: Exclusive content on the recent advancements in cybersecurity will be delivered in our classes. Many of these topics are not available in the textbooks. Our students will be ahead of others in terms of their problem solving capabilities.
Excellence for All: We are not satisfied with the overall performance of a class – we try hard to make sure that each individual student excels, and excels with fun.
Ready for Job on Day One: Our students will have hands on training on how to prevent, detect and defeat cyber-attacks, how to handle cyber emergency, and how to protect private and sensitive information. They will be solving problems involving unforeseen scenarios and will be ready for critical assignments on day one of their job.
The part of the teaching that I enjoy most is making a student realize what he or she is capable of. Once the students are aware of their true capabilities, they just keep looking for challenges and amazing things happen. That's so gratifying!
Master of Science in Computer and Information Science – Cyber Security and Privacy Option

Specific Degree Requirements
Each candidate for the Master of Science in Computer and Information Science degree must complete a minimum of 30 semester hours of coursework.
Required Core courses (12 hours):
MCIS      5103       Advanced Programming Concepts
MCIS      5133       Data Base Management Systems
MCIS      6163       Computer Networking
MCIS      6173       Information & Networking Security
Required Cyber Security courses (12 hours)
MCIS      6223       Vulnerability and Risk Assessment
MCIS      6233       Traceable Systems and Computer Forensics
MCIS      6243       Wireless and Mobile Security
MCIS      6253       Privacy Compliant Systems Design
Electives, Select 6 hours from the following:
MCIS      5003       Survey of Information Technology
MCIS      5013       UNIX Operating System
MCIS      5113       Web Programming: Client Side
MCIS      5313       Data Structures and Algorithms
MCIS      5413       Web Programming: Server Side
MCIS      6123       Decision Science
MCIS      6133       User Interface Design
MCIS      6153       Software Engineering
MCIS      6183       Special Topics
MCIS      6201-6    Special Topics Seminar
MCIS      6213       Applied Cryptography
MCIS      6263       Big Data
MCIS      6273       Data Mining
MCIS      6283       Machine Learning
MCIS      6983       Internship in Computer and Information Science
MCIS      6911-6    Thesis
* Based on 2 classes per semester including summer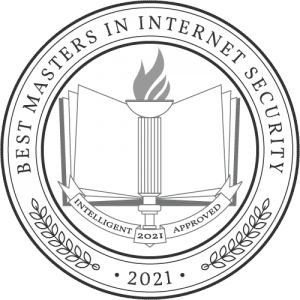 The Master of Science in Computer and Information Science (MCIS) program at the Southern Arkansas University is one of the largest, most affordable and highly attractive computer science graduate programs in the USA. The program offers a wide spectrum of online and onsite courses that are carefully designed to train the students in both theories and applications. The curriculum is constantly reviewed and updated to reflect the ongoing changes in the computer science field. The faculty members are highly qualified — many with extensive industry experience.
Students in the MCIS program can either study general topics in computer science or, based on their background and interest, pursue one of the following focus areas:
Data Science
Cyber Security & Privacy
The Cyber Security and Privacy option focuses on security analytics (such as penetration testing and digital forensics), cyber defense and privacy compliance. Students are expected to have familiarity with computer systems and applications to pursue this option. Key career options include: security/privacy architect, forensic specialist, security/privacy compliance analyst, or pursuing doctoral studies.
Undergraduate requirements
Students should have a bachelor's degree in computer science or a related field. Students with a bachelor's degree in other areas will be considered, but will require to complete MCIS 5023 Computer Science Fundamentals: Concepts and MCIS 5033 Computer Science Fundamentals: Programming prerequisite courses. No credit is awarded towards the MCIS degree for the completion of these prerequisite courses.
For more information about the program please contact