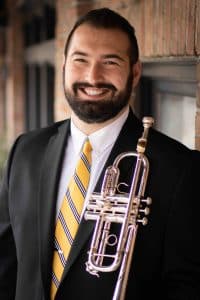 Dr. Flint Angeroth Franks
Director of Jazz Ensembles/ High Brass Instructor
Dr. Flint Angeroth Franks is the director of Jazz Ensembles and the High Brass Instructor at Southern Arkansas University. Dr. Angeroth Franks oversees the SAU Jazz Ensemble, Jazz Lab, Jazz Combos, Trumpet Ensemble, Horn Ensemble, and trumpet and french horn lessons.
Flint is a graduate of Luther College ( BA '15) and the University of North Carolina at Greensboro ( MM '19), and Florida State University (DM '23). Flint served as a teaching assistant during his time at both UNCG and FSU. His treatise, titled "The Serbian Trumpet Tradition: An Overview of the History, Repertoire, and Pedagogy of Classical Trumpet in Serbia", involved a two month research trip to Serbia where Flint worked with Serbian trumpeters and teachers across the Balkin country.
As a performer, Flint has performed globally with varying ensembles in countries including Brazil, China, Austria and Serbia, in addition to domestic tours. Highlights involve performances at the Collegiate Band Directors Association Conference, and one semi and two quarter final appearances at the National Trumpet Competition in the Graduate Solo Division and with the UNCG trumpet ensemble, respectively. As an orchestral player, Flint has worked with the Fayetteville Symphony Orchestra, the Raleigh Symphony Orchestra, the Tallahassee Symphony Orchestra, the Winston-Salem Symphony and the Sinfonia Gulf Coast Orchestra. In addition, Flint performs in numerous chamber groups ranging in style and size. These groups have included the Agogé Brass Quintet, the Triad Stage's pit orchestra, and the brass ensemble Hot Horns.
Flint has spent much of his career in music education, working with jazz, concert and marching programs across the United States as both a clinician and instructor. Notable roles include Director of Bands in the Edgewood-Colesburg CSD, assistant brass caption head at the Colt Cadets Drum and Bugle Corps in 2018, and the visual caption head with River City Rhythm Drum and Bugle Corps in 2021. Flint has presented and performed multiple times at International Trumpet Guild Conference and has contributed articles to the ITG Journal and to other music websites.