While most college students may have relaxed over the summer or hit the beach, Terence Lee honed his acting skills in two highly competitive acting workshops – one in L.A. and another in London.
Lee, a Southern Arkansas University junior from Kuala Lumpur, Malaysia, is now sharing with theatre students at SAU what he learned from his busy summer.
"Terence's enthusiasm and ambition are what afforded him the many opportunities he had this summer. What most people don't realize is how competitive it is to get accepted into an acting workshop at the Guildhall in London or at Second City in Los Angeles," said Clayton Guiltner, director of theatre and assistant professor of acting and directing at SAU. "Terence worked hard to earn money to travel and to complete the requirements of applying for student travel grants at SAU."
Lee described his first workshop in L.A. as an "adult summer boot camp for improve" where he worked on his improve, physical comedy and writing. Second City has such notable alumni as Tina Fey, Steve Carell, Stephen Cobert, Mike Myers, and the list goes on and on.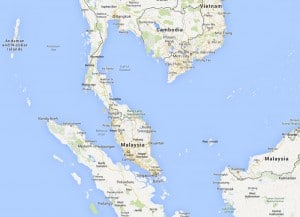 "I was skeptical when I paid for it as I watched the money disappear from my bank account, but it was totally worth it," said Lee. "I learned a lot during that week and at the end we had a showcase of what we had learned."
As he explained his journey to and from L.A. for this opportunity, it was clear he learned patience and perseverance as well. He took a bus to Dallas Fort-Worth Airport, where he stayed overnight to catch his less-expensive early morning flight. He had an equally long trip on the way home. While in L.A., he stayed with a friend's sister and walked more than 20 minutes to and from his workshop.
Thanks to an SAU travel grant awarded to Lee, his flight to the famed Guildhall School of Music and Drama in London was drama-free. From July 1 to August 2, he had a grueling study schedule from 6 a.m. to 11 p.m., five days a week.
"One of the most exciting things was studying the teachings of Patsy Rodenburg," said Lee about the famed voice and Shakespeare teacher and best-selling author. "She has trained more than 40 Oscar-winning actors and worked with Pavarotti."
As a part of the program, Lee also had the opportunity to attend play performances, such as "A Midsummer Night's Dream" at Shakespeare's Globe Theatre. All of the plays the students attended included cast members who were alumni from the Guildhall program.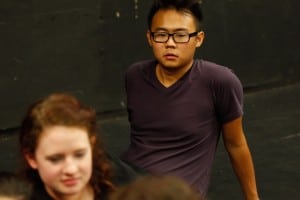 Lee said he took a lot away from the post-play sessions when some of the actors would visit with the group to talk about the life of being an actor.
"It's not a job; it's a lifestyle," Lee said. "It's hard for you to find joy in what you are doing if you are doing it for the money. In terms of acting, anyone can be talented. It's whether or not you are willing to put in the effort and be open to the ideas that people present to you."
Lee's sacrifices have certainly demonstrated his willingness to put in the effort. He said that he had a food budget of $15 a week while in London. He lived off home-made spaghetti for three weeks.
He admitted the trip would not have been possible without the SAU travel grant he was awarded.
"Terence represents a growing number of SAU students who have the opportunity, through University support, to participate in travel and study programs, academic conferences and internships," said SAU Provost and Vice President for Academic Affairs Dr. Trey Berry. "We appreciate the work of the SAU Foundation and the growing list of state-wide donors who given so generously and who view these experiential learning programs as something that is important for all 21st century students."
Lee, who came to SAU with dreams of learning how to be a film director, admits he was "oblivious and just going with the flow" until he found his love for acting.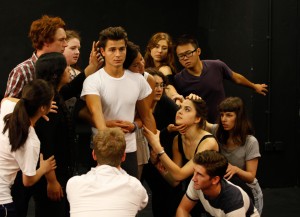 "Terence is not the same student he was the day I met him a couple of years ago," said Guiltner. "I have watched him grow and develop his craft as an artist and actor. His training at SAU, coupled with the outstanding opportunities he had this summer, have pushed him to have some major breakthroughs as a performer."
As he starts his junior year, Lee said he wants to do more acting, both on stage and in class, as he continues to develop his skills. According to Guiltner, Lee has been accepted as an actor in the "Insomniacs 24 Hour Play Festival" with the Grex Group Theatre in New York City. Guiltner will take Lee and other SAU theatre students to New York City for the department's annual trip in October.
Lee is also a popular Resident Advisor in SAU's Fincher Hall, and is always willing to share his acting prowess for SAU's video and commercial productions. Lee was the star of the University's most popular viral video to date, "Mulerider Style," which hit YouTube in the fall of 2012.