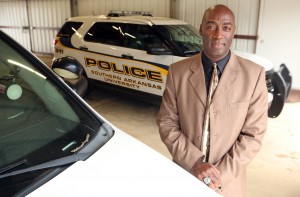 A swearing-in ceremony for the new Southern Arkansas University Police Chief Anthony Williams will be at 1 p.m. on Monday, July 21, 2014, at the SAU Reynolds Center Foundation Hall. The community is invited to attend in welcoming Williams.
Chief Williams comes to SAU with 30 years of law enforcement experience from the city of Dallas. From 1999 until just two days before starting at SAU, he worked as a lieutenant with the Dallas Police Department. A part of his responsibilities included being commander of the evening shift for the Southwest Patrol Operation Divisions where he supervised a staff of 143 officers and civilian personnel.
"I have been asked, 'How do you transition from a big city department to a small city police force?' said Williams. "I just answer, 'With a UHaul.'"
He is also looking forward to the university environment as he has an advanced degree in education and is a former college professor. He earned a Master of Science in Educational Administration from Prairie View A&M University with a 4.0 GPA in 2004. His Master's thesis was entitled "Police and School Community Relations."
During his first three months at SAU, Williams looks forward to getting his Arkansas police license through an accelerated academy program in East Camden, as well as going through Arkansas' specialized chief training program. He also wants to learn as much as he can about SAU.
"This is an exciting learning experience for me. My first day I got to sit in on an SAU BAM student orientation program, and I was just as attentive as the incoming students," said Williams.
Along with Williams' extensive police, educational and training background, he is also active in many professional organizations. He is a past vice president of the Texas Police Officer's Association. He is a program advisory committee member for the Criminal Justice Program at ITT Technical Institute and an advisory board member and trainer for the Victim Chaplain and Counseling Association of America. He is also a Past President Emeritus of the Alumni Association at the Institute for Law Enforcement Administration.
His list of awards is also extensive with more than 200 accolades. It includes a 25-year Safe Driving Award and a 25-year Perfect Attendance Award. He has earned two Life-Saving Awards, a Police Commendation, a Civic Achievement Award, Kids and Cops Award, and an Excellence in Service Award for the City of Dallas.
He has several published professional writings that include "Christian Management in Organizations" and "School and Community Relations."
He is the father of Anthony Williams, II, and is an active member of the Inspiring Body of Christ Church. He is also a volunteer and trainer with Victim Relief Ministries since 1999.
Williams succeeds Eric Plummer who left the University for a similar position in North Dakota in October 2012. Since that time, Lieutenant Boyd Good has served as interim police chief.