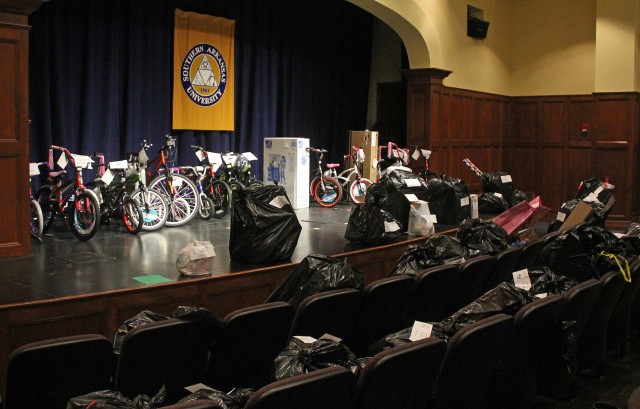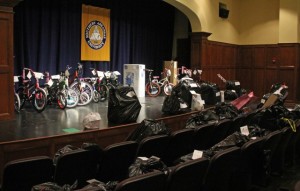 Monetary donations helped tip the scales in the final push to provide presents this holiday for a whopping 720 youth in Columbia County thanks to the Angel Tree.
"It is a miracle that we started last week with 300 angels on the tree and managed to find sponsors or donations for them all," said Dr. Shannon Schroeder, who heads up the annual Angel Tree effort at Southern Arkansas University with her husband, Dr. Tim Schroeder.
She said that she was worried that this may be the first year since the tree moved to SAU in 2008 that all the angels would not accounted for. She was thankful for the monetary donations in the end, as they helped cover the angels whose sponsors did not return gifts.
"This doesn't just take a village; it takes a community to run the angel tree. From the cleaning staff in the Reynolds Center and the SAU switchboard operator, whose work almost doubles, to all the departmental offices who help. It is amazing how many volunteers it takes to do this and how much help we get from across SAU and the community," said Schroeder.
Amanda Smith, radio host for 99.1 Magnolia Radio, for example, would call Schroeder daily to get updates and keep the Angel Tree in the foremost of the public members' minds. Schroeder said that agencies, such as the area Department of Human Services, are also invaluable in this process.
Schroeder said there were too many volunteers at SAU to recall. She was thankful to Deana Taylor, community involvement coordinator, for making so many phone calls as a part of the effort.
Taylor's role at SAU is a new position, but commitment to community is well documented throughout the University's history. SAU has been recognized for the past five years by the President's Honor Roll for Community Service. SAU was the only University in Arkansas to earn a spot on the coveted President's Honor Roll with Distinction in 2012.
To find out more about SAU's work in the community, visit www.SAUmag.edu/Community or contact Taylor at deanataylor@saumag.edu or 870-235-4922.