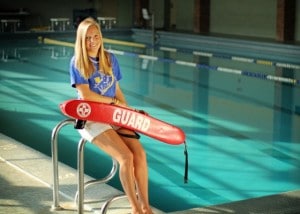 Whitley Patterson has a history of success at Southern Arkansas University, which she hopes to continue into her new role as the coordinator of the SAU Aquatic Center.
Her primary goals are to raise community awareness of the Aquatic Center's offerings and increase the Center's memberships while adding new, exciting and beneficial classes for people of all ages and physical abilities.  She is also hopeful the recent renovations, including fresh paint and new tile work, will help kick-start her initiatives.
"Over the time I have spent here, SAU has impacted me more than words can say," said Patterson. "This University has been very good to me and it is a privilege and honor to be able to work on staff here and to be in a position to make a positive impact on the facility and those that use it."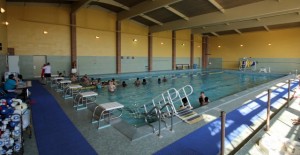 Memberships for the pool are affordable, and allow swimming with a lifeguard on duty for weekday morning, mid-day and evening times. Memberships are as follows: $60 for a semester adult single membership or $175 for a year (three semesters); $85 for a semester husband/wife membership or $250 for a year (three semesters); children must be accompanied by an adult, and their costs are $20 a semester or $55 a year (three semesters). A day pass for the pool is $5.
SAU alumni and employees with Albemarle and Alcoa have discounted rates as follows: $25 for a semester adult single membership or $70 a year (three semesters); $40 for a semester husband/wife or $115 a year (three semesters); and children (with adult) for $10 a semester or $25 a year (three semesters).
SAU students and employees get free memberships with a student or employee I.D. All members must fill out the registration packet before gaining access to the Aquatic Center.
Patterson, an All-American golfer, said she was first attracted to SAU because she was looking for a better academic atmosphere than where she ended up transferring from.
She earned a business marketing degree from SAU's AACSB accredited College of Business in 2012, and hopes to complete her M.B.A. from SAU this December.
"Transferring to SAU was a huge blessing for me. Although SAU had a great academic atmosphere, it also offered something very special for me," said Patterson. "The golf team was not just a team, it was a family. Playing with such great people and an amazing coach like Coach Leonard Biddle impacted my live in many positive and unforgettable ways."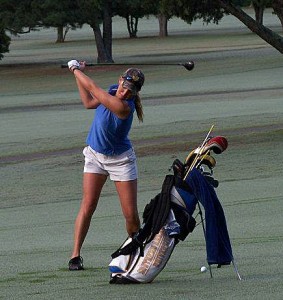 She shined as team captain for the golf team and earned First Team All Gulf South Conference honors in 2011 and 2012. She was also named SAU's Outstanding Athlete (golf) in 2011 and won the coveted SAU Auburn Smith Award in 2012. She was nominated for GAC Female Athlete of the Year, GAC Female Scholar Athlete of the Year and for the Arkansas Sports Hall of Fame Star of Tomorrow Award.
Upon witnessing Patterson's work ethic in the classroom and on the golf course, Biddle was happy to have her work as a lifeguard at the SAU pool.
"Working down here for so long has shown me how beneficial the water can be for all types of people, including seniors with arthritis to athletes rehabilitating from surgery or looking for a unique type of workout," said Patterson.
For the fall and spring semesters, the Aquatic Center is open for swimming as follows: Monday through Thursday, 6 a.m. – 8 a.m., 11:30 a.m. – 1:30 p.m., and 7 p.m. – 9 p.m.; Friday, 6 a.m. – 8 a.m. and 11:30 a.m. – 1:30 p.m.
The fall Continuing Education classes in the Aquatic Center, Aquacize and Aqua Zumba, are still accepting students through September 16. Aquacize meets Tuesday and Thursday nights from 6 p.m. – 7 p.m. The fee for this class is $60. Aqua Zumba meets on Wednesday nights from 5:30 p.m. – 6:30 p.m. The fee for this class is also $60. Visit www.saumag.edu/ce or call (870)235-4006 for more information on participating in these classes.