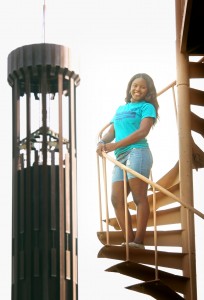 Gabrielle Davis has a big heart and big plans for her future, and she never thought about taking her ambitions anywhere other than Southern Arkansas University.
Davis, 18 of Magnolia, was recently selected among a statewide pool of applicants as the 2014 recipient of the Pringle Scholarship through the Arkansas Community Foundation. She earned this award because of her dedication to community and her work with the Columbia County Youth Advisory Council (YAC).
She joined YAC after completing the Today's Youth, Tomorrow's Leaders (TYTL) program for high school sophomores and juniors interested in improving themselves and the community. In YAC, Davis participated in numerous service projects and helped write grants for the organization.
Wise beyond her years, Davis has a clear vision for how she plans to dedicate her life to community. Her academic journey has already started this summer at SAU, a place she said feels like home. She is majoring in political science to put her on track to become a social attorney with an emphasis in child advocacy.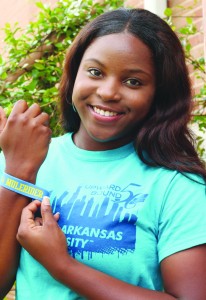 Outside of class, she hopes to become a part of SAU's community involvement efforts. She has earned a spot in the SAU Honors College and a scholarship position with the SAU Choral Ensemble. But her scholarship funds do not end there.
Being a first-generation college student, Davis has sought out all the college funding sources she could find. She has been also awarded an SAU Blue and Gold Scholarship, a scholarship from the Boys & Girls Club, and the Arkansas Challenge.
"I am still awaiting the results from several other scholarships I applied for," said Davis, who also works a part-time job.
She has been a standout at everything she has touched in her short life. Academically, she completed Magnolia High School with a 4.18 GPA. In addition to her involvement with the YAC program, she participated in choir, drama, softball, drill team, Fellowship of Christian Athletes (FCA), and Pride. She was elected Student Council President and was a member of Mu Alpha Theta and the National Honor Society.
She is an alumnus of SAU's Upward Bound program, and is a student in SAU Upward Bound Bridge this summer.
"Upward Bound has opened many doors of opportunity to help me reach my educational goals," said Davis. "The program has inspired me to spread the greatness of not only Upward Bound, but the importance of earning a degree."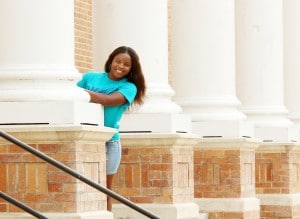 On top of all of that, she has logged more than 100 hours volunteering for the Boys & Girls Club of Magnolia. She is currently working with the South Arkansas Women's Network and has volunteered for Relay for Life.  Not surprisingly, Davis was recognized "Young Person of the Year" by the Columbia County Chamber of Commerce in the spring of 2014.
She is the daughter of Kenneth Davis and Rebekah McDowell. Her sister, Gabrianna McDowell, is a junior pre-nursing major at SAU
Arkansas Community Foundation is a nonprofit organization that fosters smart giving to improve communities. The Community Foundation offers tools to help Arkansans protect, grow and direct their charitable dollars as they learn more about community needs. By making grants and sharing knowledge, the Community Foundation supports charitable programs that work for Arkansas and partners to create new initiatives that address the gaps.  Since 1976, the Community Foundation has provided more than $108 million in grants and partnered with thousands of Arkansans to help them improve our neighborhoods, our towns and our entire state. Contributions to the Community Foundation, its funds and any of its 27 affiliates are fully tax deductible.