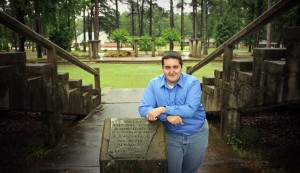 Southern Arkansas University student Michael Davis secured his place in SAU history recently when he earned a $119,000 grant to renovate University's historical Greek Amphitheater.
Davis was awarded this monumental grant on May 7, 2014, from the Arkansas Natural and Cultural Resources Council (ANCRC) Grant Program under the Department of Arkansas Heritage. His grant application was completed for his professional project as a part of his Masters of Public Administration at SAU. He is scheduled to graduate with his M.P.A. degree in August, and will have quite the resume to take on his job hunt.
"I doubt if there is another point in SAU history that an individual student has secured a grant worth more than $100,000 for the University," said SAU Provost and Vice President for Academic Affairs Trey Berry. "Michael will leave a lasting legacy at SAU with the restoration of the Greek Amphitheater."
The grant funds will provide restorations to the historic Greek Theatre, and include concrete cleaning and repair; installation of electrical wiring and the addition of enhanced lighting; and the addition of dirt, sod, landscaping and drainage pipes.
"As much as I've researched on that facility, whenever I see it now I can almost see what it would have looked like when it was constructed," said Davis. "I think with the restoration, it will return to its original state with modern improvements."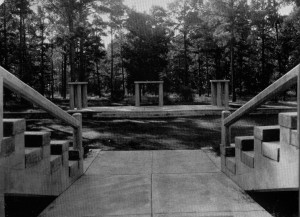 One thing Davis is looking forward to is the addition of a plaque to give credit to the Magnolia A & M class of 1936 for construction of the stage and columns. There is a plaque already in place honoring the work done for the seating in 1937-38 by the Columbia County National Youth Administration participants.
"How fitting is it that it was originally a student-led, student-run project and now the renovation is student-run," said Davis.
The Greek Amphitheater was added to the National Registry of Historic Places in 2005, and has continued to host outdoor activities for the University as well as the occasional wedding or other community event. Davis and the SAU administration are hopeful that the renovations will encourage additional uses for the site.
Davis is going to continue to be a part of the committee that is overseeing the renovations. At this point, the committee anticipates that the project will go out for bid in around the end of June. Once construction begins, work should take around 60 days.
The ANCRC also awarded a grant to SAU in 2012 to restore the Recital Hall in Dolph Camp Hall.
"We are so grateful to the Arkansas Natural and Cultural Resources Council for providing this generous grant to make this restoration possible. The ANCRC has done tremendous work throughout are state by providing critical historic preservation funds for projects such as the SAU Greek Amphitheater," said Berry.
Davis also earned his undergraduate degree, a B.B.A. in M.I.S., from SAU. He said he hopes to put both his education to work somewhere with the Arkansas state government following his graduation in August.