Study Game and Animation Design in the US
The game and animation design programs at SAU offer prospective students a competitive and more affordable avenue to a lucrative future developing mobile apps, 3-D designs and lifelike animations.
Overview
Southern Arkansas University is the fastest growing university in Arkansas. The campus is a buzz with energy and life, and the student-centered atmosphere is felt by first-time visitors and soon-to-be graduates. SAU is also the most affordable university in Arkansas and has the highest return on investment, according to the U.S. Department of Education. SAU was even named the sixth most affordable in the U.S. by bestvalueschools.com in 2015.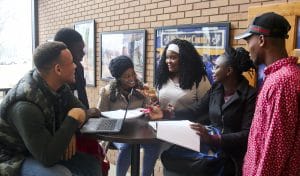 Nestled in a quiet and beautiful part of south Arkansas, SAU is a great place to call home and to study a broad range of academic programs, including some unique offerings to the state and region. Along with boasting a complete college experience on campus, the University is a short drive from outdoor activities and is central to many regional hubs, such as Texarkana, Shreveport, Little Rock, etc.
Established in 1909, SAU has built on its dedication to student achievement and continues to grow, both on campus and online, with more than 80 degrees in four distinct colleges and the School of Graduate Studies.
Why study gaming at SAU?
SAU provides a deep foundation in skills needed for the gaming industry.
Affordable tuition rates and a family-like setting
SAU's hands-on training provides the experience to needed to prepare students for an ever-changing, competitive industry.
Faculty and staff at SAU are welcoming and accommodating to the needs and requests of the student body.