AROUND CAMPUS
 The Mulerider steak cookers team showed the judges and crowd a little "Mulerider Style" and nabbed first runner up honors in the Showmanship category at the recent Magnolia Blossom Festival. The team also entered the appetizer competition with their chicken rumaki with a wasabi cream sauce. Be sure to congratulate SAU team members Brad Stout, Sandra Hughes, Boyd Good, Jamie Smith, Lillie Wright, Ceil Bridges and Matthew Mitchell for their hard work representing our University.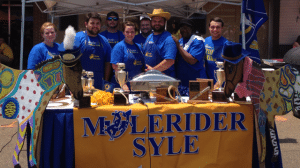 The Computer Game and Animation Design program at SAU is slated to kick off in the fall. It is the only complete degree program in Arkansas and the region. As such, it has garnered recent attention from regional media outlets. Let the games begin!
Also getting media attention toward the end of the spring semester was Dr. Ben Johnson as he received the state's first Endowed Professorship in Arkansas Studies.
SAU Human Resources is currently overseeing searches for three open faculty positions and eight staff positions.
Dr. Chrisanne Christensen had the opportunity to discuss first-hand the importance of public service with Senator John McCain during a visit at the Clinton School of Public Service on Friday, April 14, 2013, to learn about innovative therapy for sexual assault survivors from a renowned expert. Christensen said that although she does not always agree with McCain's political philosophy, the chance to learn about his ideas related to public service and his work with President Clinton was wonderful.
Starting next week, the Mulerider Activity Center will be on summer hours:
Monday – Thursday                7 a.m. – 8 p.m.
Friday                                      10 a.m. – 8 p.m.
Saturday                                  10 a.m. – 3 p.m.
Sunday                                    1 p.m. – 5 p.m.
CONSTRUCTION AND PROJECT UPDATES
FROM THE PHYSICAL PLANT
 The Magale Library second floor carpet replacement is almost complete. This $45,000 project was funded entirely through the Friends of the Library organization. We are very thankful for their generosity. (see before, during, and after photos below)
The SAU Science Center recently won two energy-related awards from the American Society of Heating, Refrigeration, and Air-Conditioning Engineers (ASHRAE). The first award was from the Arkansas ASHRAE Chapter: First Place, 2013 Technology Award for the New Education Facilities category. The second award was from ASHRAE Region VIII: Outstanding Regional Project Technology Award for outstanding application of technology.
Dolph Camp Recital Hall renovations are complete. This $75,000 project was funded by a grant from the Arkansas Natural and Cultural Resources Council. Improvements included new paint, paneling, carpet, drapes, lighting and seat upholstery.
The Rider Rink project is also complete. This $48,000 project includes renovation of the restrooms and new floor surfacing in the entry and assembly areas.
The new residence hall, University Hall, is on schedule and should be ready for occupation in early August. This $5.2 million, 60-bed project, will provide state of the art, suite-style living.
Financial Aid has moved into Overstreet…(financial aid lobby seen below)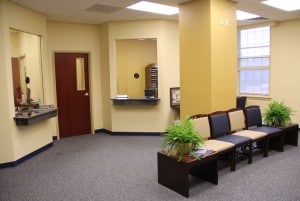 Thanks to a $350,000 Arkansas State Highway Grant, the Campus Sidewalk Program was recently completed. Get out and take a walk and explore the new and improved walk-ways.
Phase IV of the University Walking Trail system is also finished and getting a lot of foot traffic.  This final addition to the path connects Phase III to the initial trail starting point on East University and provides a very scenic walk around the duck pond and intramural field.
A new ADA parking area near the Millennium Bridge will provide handicap accessible parking for football, softball and Welcome Center events. Asphalt millings will be used to improve access to that parking area in the near future.
Construction is underway for the new Ribble Strength and Training Facility parking. This addition will provide parking for approximately 60 vehicles and temporary parking for visiting football team buses.
Construction on Phase II of the Rodeo Arena will start within the next two weeks. During this phase, the facility reception center, site utilities, entrance road and limited parking and fire prevention systems will be addressed. We hope to be completed in time for the spring rodeo season.
Plans are well under way for Agriculture Phase II. This $500,000 project includes two green houses, a head house, site utilities, a water well, an orchard and fencing. The projected bid date is in approximately 30 days.
District Heat/Cooling 12B is 95% complete. This project will greatly improve campus energy management systems and efficiency. Measurement and verification of energy savings will be ongoing over the next year.
The Physical Plant will conduct End of Quarter training from 11:00 a.m. to 1:15 p.m. on Thursday, May 23, during which the Department of Health will conduct mandatory chemical safety training.
 COMMUNITY INVOLVEMENT
 The Academic Affairs Office, Overstreet 102, is now collecting items to send to the devastated areas in Oklahoma. The deadline for collecting items will be Thursday, May 30. The list of items needed is as follows: water, Gatorade, nonperishable foods, plastic utensils, paper plates, paper towels, laundry detergent, sanitary, disinfectant wipes, laundry detergent, toothbrushes, toothpaste, deodorant, soap, shampoo, lotion, feminine supplies, personal hygiene, q-tips, razors, shaving cream, brushes, diapers, baby wipes, baby wash, baby powder, batteries, flashlights, First-aid items, insect spray, pet food, Visa gift cards, children activities (ie: books, coloring books, crayons).
Steven Ochs and his ceramics students gave hands-on art history lessons to Magnolia kindergarten students during an all-day workshop on April 24, 2013. Read more about this project.
CONGRATULATIONS
 Angela Stone and husband Matthew Adcock are proud to announce the birth of their second son, Rohan Navid Adcock. This little R.N.A. was born May 7, 2013, at home in Magnolia. He was 10 lbs. and 10 oz. and was 22 inches long. Stone's first son is Darius Adcock, and his initials are D.N.A.
UPCOMING EVENTS
 Upward Bound at SAU begins June 1, so let's all welcome these students and make them feel at home on our campus.
The first B.A.M. freshman orientation session is scheduled for June 11. Check online for a complete list of B.A.M.s. If your department or organization would like to have a table set up to welcome this new group of students, email Amanda Perry no later than Friday, June 7.
_____________________________________________________________________________
The Mulerider Diary is a product of the SAU Communications Center.
It is produced to help keep faculty and staff at SAU informed about all of the exciting things taking place around campus.
If you have any suggestions or submissions, please e-mail them to diary@saumag.edu.