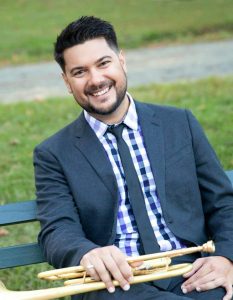 Educational Background
B.A., Trumpet Performance, University of South Florida
M.M., Instrumental Conducting, New Mexico State University
M.M., Trumpet Performance, New Mexico State University
Mr. David D. Torres, serves as Assistant Professor of Trumpet & Horn and Director of Athletic Bands at Southern Arkansas University. A renowned performer, educator, and arranger, prior to his appointment at SAU, Mr. Torres enjoyed a multifaceted career as a professional musician. Based in both New York and Florida, Mr. Torres' Broadway tour credits include; Disney's Beauty and the Beast, The Drowsy Chaperone, The Bodyguard: The Musical (PaperMill Playhouse & 1st Nat'l), The Producers, and Andrew Lloyd Webber's The Wizard of Oz. Credits also include 5 years with the Broadway production "Blast!" And "BLAST II M.I.X." as trumpet soloist with both the Japanese and North American tours. In addition, Mr. Torres was one of the last trumpet/conductors to lead the live band for the famed Ringling Brothers and Barnum & Bailey Circus. He served for four years as Ringling's trumpet player and assistant musical conductor for the 142nd and 144th Edition of "The Greatest Show on Earth." While in Florida, Mr. Torres got his start playing trumpet at Walt Disney World, and he is a proud Alumni of Disneyland All-American College Band (2004). In Southwest Arkansas, Mr. Torres can be heard as a regular or sub musician with the Texarkana Symphony Orchestra, Texarkana Jazz Orchestra, British Brass Band Association of Louisiana, and Ouro Boar. Prior to moving to Arkansas, Mr. Torres has also been associated with the Tampa Bay Symphony, Las Cruces Symphony Orchestra, Paso Del Norte Big Band, Organ Mountain Brass, Tampa Brass, NYGASP (NYC Gilbert and Sullivan Players), David Rowen Creative, PaperMill Playhouse (Tony-Award Winner), and Suman Entertainment (NCL).
As a trumpet teacher, Mr. Torres' trumpet and horn students at Southern Arkansas University have succeeded immensely; placing at national competitions, earning scholarships, and winning positions at summer festivals, symposiums, and World Class Drum & Bugle Corps. The SAU Blue Trumpet Ensemble has been invited to play at numerous International Trumpet Guild Conferences, and were recently honored by advancing to the live rounds of the 2022 National Trumpet Competition in Newark, Delaware. Mr. Torres' primary teachers include Jay Coble, Pancho Romero, Charley Davis, and William Adam.
As a conductor and band director, Mr. Torres is an in-demand private instructor, arranger, adjudicator, and lecturer throughout the country. He has given masterclasses and lectures for numerous high schools, universities, and music festivals including the Arkansas School Band and Orchestra Association, Four States Bandmasters Association, and the International Trumpet Guild. The Marching Mulerider Band (M.M.B.) has grown into one of the largest collegiate marching bands in the state of Arkansas. The M.M.B. performs no less than 2 shows at each home game; one traditional pregame show and a modern halftime show of original music and drill designs specifically written for the group. The M.M.B. regularly travels through the region, performing in exhibition and at invitationals in Louisiana, Texas, and Arkansas. The RiderSound Basketball "pep" Band was formed in 2019 and has become a staple at all Mulerider home basketball games, rocking the W.T. Watson Center. This group of 30-50 players play original arrangements, while donning SAU hockey-style jerseys.
Mr. Torres hold's a Master of Music degree in Wind Conducting from New Mexico State University, and a Master of Music in Applied Trumpet from New Mexico State University, he received his Bachelor of Arts degree in Trumpet Performance from the University of South Florida School of Music. While at New Mexico State University, David worked as a graduate teaching assistant under Dr. Frank Romero (trumpet, jazz ensembles), Dr. Michael Mapp (conducting), and Dr. Steven Smyth (athletic bands). Duties included: sub-conducting both the NMSU Wind Symphony and Symphonic Band, writing music, drill, and instruction for the 200+ member "Pride of New Mexico" Marching Band, Directing and traveling with the RoadRunner Revue basketball bands (NCAA/WAC tourney's and regular season), creation and Direction of the NMSU brass choir, coaching the NMSU trumpet ensemble (2019 quarterfinalists at National Trumpet Competition in Lexington, KY), and Director of NMSU's Jazz Ensemble II. An alumni of the Boston Crusaders Drum & Bugle Corps, he has been on staff, or choreographed/designed for numerous award winning BOA band programs, Drum & Bugle Corps and college bands. Further professional affiliations include: International Trumpet Guild, Phi Mu Alpha Sinfonia Fraternity, Tau Beta Sigma Honorary Band Fraternity, Arkansas School Band and Orchestra Association, Texas Music Educators Association, New Mexico Music Educators Association, and The American Federation of Musicians (South Florida Musicians Association #655).
Mr. Torres is an endorsing artist of B.A.C. Custom Musical Instruments, Hercules Stands, and ChopSaver lip balm. He lives in Magnolia, Arkansas with his loving wife Anna, and their dog Lola.