Classes
What resources are available to face-to-face students transitioning to online classes?
Blackboard Support
All SAU students will soon have access to a Blackboard Orientation, which will be available on the Blackboard homepage. While this is not a required orientation, students are encouraged to explore and familiarize themselves with Blackboard and its many tools.
Additionally, students will also have the option to attend an online/streaming Blackboard Orientation during the week of March 23.
Finally, all students have the option to request support using one of the following methods:
Email to helpdesk@saumag.edu;
Call or Chat with our 24/7 Blackboard Support.
In your request, please be specific about the course you are working in and the issue you are experiencing. You may also include a screenshot or a video of the problems you are experiencing to help our support team better troubleshoot your issue.
Students will not be charged for the additional expense of moving all course delivery to online platforms and using any online testing services.
Academic Support
Faculty will host virtual office hours following this transition. Plans are underway for virtual advising to help students register for fall classes. Because some course work requires special computer equipment, access to certain technical labs remains open through the end of the semester. Additionally, the Academic Enrichment Center will be open for two weeks beginning March 30. We do ask that students review the campus visit protocol online before coming to campus as virtual assistance will also be available.
Supplemental Instruction sessions will be offered online through blackboard beginning after spring break at the regular scheduled time. SI leaders will continue to communicate via the remind app.
Is the spring course drop date remaining the same?
The success of our students is top priority. Because of the current circumstances, the spring course drop date is extended to April 24th.
How do I need to return my textbooks at the end of the semester?
The SAU Bookstore will remain open regular hours until further notice
Spring Break hours are M-Th 10 a.m. – 2 p.m.
Rented textbooks do NOT need to be returned before leaving campus. The rental due date remains 05/07/20.
If you will not be returning to campus, rented textbooks need to be shipped via UPS or FedEx to the bookstore for check-in. Be sure to include your name and telephone number INSIDE the package with your books.
Store Address: SAU Bookstore
100 E University
Reynolds Bldg
Magnolia AR 71753
Textbook buyback will still take place during finals week: 05/04/20-05/08/20
What about courses with labs?
Professors, department chairs, and deans are making decisions regarding each lab. Please continue to monitor your campus email for correspondence from your professors.
What do I do about student teaching?
Student teachers should check in with their University supervisor or Field Professor to discuss the changes in their student teaching experience. Arkansas schools are closed until April 17 and Louisiana schools are closed until April 13.
---
Facilities
Is the Testing Center open?
The Testing Center remains open to SAU students who currently use the Center's proctoring services. External proctoring services scheduled for the week of March 16-20 will proceed, but new appointments are suspended until further notice.
ACT has decided to reschedule the April 4, 2020 National ACT® test date to our June 13 and July 18 test dates in response to concerns regarding the spread of the coronavirus (COVID-19).
ACT will be notifying registered students directly in the next few days, informing them of the postponement and providing instructions for next steps.
Will other campus facilities remain open?
Mulerider Activity Center – closed – exercise at home resources
Cafeteria Dining Service – open with an adjusted schedule
Aquatic Center – closed
Wilson Hall – closed
Brinson Hall – closed
Gaming Hub – closed
Bruce Center Food Court – closed
Golf Driving Range – closed
Panda Express – closed
Testing Center – open by appointment to current SAU students
Magale Library – closed – Online Resources
Reynolds Center – open to students for to-go meal pick up and Testing Center use only
Bookstore – closed (more bookstore information)
Post Office – open Monday-Friday 10-2; Saturday 8am-9:30am
Current computer labs open include:
Residence Hall Computer Labs
*Wilson Hall 103,109, 123, 119
*Wilson 103 is a general use computer lab available to all students. Specialty labs available to students enrolled in specific courses.
Where is WiFi strongest on campus?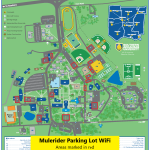 While many of the campus's buildings are closed, SAU's WiFi network is still accessible to students. For your convenience, a map of the best WiFi hotspots has been produced. Click the image to the left to view the map full-screen.
Download the map.
Can prospective students still tour campus?
No, all campus tours have been canceled at this time. The Office of Admissions is working to provide resources to prospective students remotely. For more information about admission status or the admissions process, please contact the Office of Admissions at 870-235-4040.
We invite prospective students to view this video for a glimpse into life of our campus:
---
Travel
What should I do about personal travel plans?
Effective immediately, any faculty, staff, or student who travel internationally, via public transportation, or to or through domestic areas of significant outbreak will be required to remain off campus for a period of 14 days following travel.
For example, under these guidelines, those who choose to travel to any of these locations or via these methods during Spring Break will not be allowed to return to campus until April 13.
This is out of an abundance of caution to keep our campus as contaminant-free as possible and retain adequate staff levels to provide services.
What is considered an area of "significant outbreak"?
Areas of significant outbreak as defined internally are those areas in which 5 or more cases have been confirmed. The New York Times publishes a map, updated daily, with confirmed cases by state.
Additionally, many state health departments and government websites provide lists and/or maps of confirmed case counts. PLEASE consult this information prior to travel.
Find the name of the county in which the city is located you wish to visit. This information is useful when searching for coronavirus data.
Visit the state health department website for the state you wish to visit.
Find the coronavirus outbreak data.
If the information you need is not on the state health department website, search for the local health department or the city/county government website.
Data by county and city is available on a majority of state health department websites. Keep looking if it isn't. The data is online.
Review this information prior to making decisions to interact with the public or travel in these locations.
Review this information again before returning to campus
When using these resources, make CERTAIN to view the most current information. Document (screenshot/print) confirmation that the area to which you travel meets these guidelines. These resources will be used by SAU to determine reentry.
Students who have traveled outside of Columbia County: 
After working with the Task Force and based on the current COVID-19 situation, University Housing will be offering specific times to allow students to check-out or re-enter campus during Spring Break.  Check-out/Re-entry will not be allowed outside of these times, unless previously arranged through University Housing.  
These times are available to students who have not traveled to or through areas/counties of significant cases (defined at five or more).
Travel is defined as any destination or area/county with stops for fast food, gas, or bathroom breaks.
UPDATED Check-out Arrival Times:
March 28 (Saturday)   10:20 am – 12:00 pm, in front of Childs Hall
March 29 (Sunday)     1:00 pm – 4:00 pm, in front of Childs Hall
March 30 (Monday)    10:30a – 12pm, in front of Childs Hall
April 01 (Wednesday) 10:30a – 12pm, in front of Childs Hall
April 03 (Friday)         10:30a – 12pm, in front of Childs Hall
Students can arrange housing checkouts between April 3 and April 6 online at the following link:
https://web.saumag.edu/housing/checkout
. All residents who have not yet checked out or are requesting an exception must complete the form for their relevant building/complex.
Steps for Checking Out/Campus Re-entry:
Before traveling back to campus, check the Department of Health for the states/locations you have traveled (to ensure less than 5 current cases).
Prior to arrival, complete the Student Travel Form at https://web.saumag.edu/coronavirus/student-travel-form/
Arrive at SAU Screening Location:  Front of Child's Hall
Follow  the drive-in screening protocol
Proceed to check-out
To help protect our residents, off-campus guests will not be allowed in campus housing.  University Housing staff will be present to help assist students in moving items to the entrance of housing spaces.
If you need to arrange alternate times for check-out or campus re-entry, please email
housing@saumag.edu
.
For the students opting to leave campus for the remainder of this semester, please stop by the Post Office to check your mail and turn in your key.
It is important that you turn your key in to prevent a $20 key charge to your account.
As a student, what if I am self-quarantined?
Academic resources and accommodations will be provided to any student required to self-quarantine.
What happens if I do not self-report?
Any student who does not self-report and becomes a public health risk OR who does not fully comply with required self-quarantine recommendations will be subject to disciplinary action from the institution.
---
Housing
Will the residence halls remain open?
Yes, We encourage students to consult with family to make the best decision.
The move to the online delivery of classes does not currently impact housing or dining services.  Students who choose to reside on campus after spring break must be assessed before returning to campus housing. This may be done Monday, March 30 through Friday, April 3 from 8 am – 5 pm in the University Health Services (UHS) office.
Social distancing is recommended during the current public health situation. To request on-campus stay, please email Housing@saumag.edu. You will be asked to complete a travel form and create an assessment appointment prior to arrival.If a student returns to campus showing any symptoms of the Coronavirus, UHS, along with the Arkansas Department of Health will determine if isolation is needed, and self-quarantine may be required.
Can I check out of my residence hall?
Yes. To check out if your residence hall contact your RA or the RD on duty. Please remember to turn in your post office key.
If I move out of the residence halls will I receive a refund?
Student support services are being enhanced for online delivery. Continuation of student services is essential to student success. This is an emergent situation. Because students may remain on campus and use food plans, no refunds will be available for those students who choose to return home for the remainder of the semester.
Students will not lose declining balance dollars. SAU is taking steps to ensure that positive declining balance accounts will carry over to the summer and/or fall terms.
Are visitors allowed in the campus apartments and residence hall?
No, off-campus visitors will NOT be allowed in campus housing. All visitors must currently live in on-campus housing and sign-in at the front desk of each residence hall, upon arrival and departure. Visitation hours in the residence halls will remain the same.
Will on-campus dining remain open?
The Blue and Gold Cafeteria will remain open with modified hours and menu.
Campus dining will provide to-go meals on a modified dining schedule served at the Java City counter. Students are not allowed to remain in Reynolds to consume meals and are required to practice social distancing during pick-up.
All retail on campus is now closed including Chick-fila, Panda Express, Subway and Grille Works.
Cafeteria Hours of Operation
Monday – Friday
Breakfast: 8:00a.m. – 9:30 a.m.
Lunch: 11:00 a.m.- 1:30 p.m.
Dinner: 5:00 p.m.- 6:30 p.m.
Saturday and Sunday Brunch
Saturday and Sunday Dinner
Will there be a charge for staying on campus during spring break?
There will be no extra charge for students that wish to stay on campus during spring break. Students that are needing to stay on campus need to email housing@saumag.edu
---
Events
How will this affect SAU's Spring Commencement?
During this fluid situation, a decision regarding the spring commencement ceremonies have yet to be determined. Please know that SAU is proud of our students' milestones and would like nothing more than to celebrate our students in the historically custom method. Institution decisions will continue to be made by consulting the Centers for Disease Control and state and local health officials in the best interest of our campus community.
What about campus events?
Effective March 16, all campus events are suspended through May 7.
What about athletic events?
The NCAA released a statement regarding all cancellation of all winter and spring NCAA championships and related events. Click here: http://www.ncaa.org/sport-science-institute/coronavirus-covid-19
The Great American Conference Council of Presidents announced an indefinite suspension of the conference's sports activities – practices and competitions – for the remainder of the 2019-20 academic year effective immediately.
---
Work-study
Do students still get paid for not working?
Student workers currently employed by SAU will be paid for the remainder of the spring semester without reporting to duties.
What if I withdraw?
Students who withdraw from SAU will not be paid for scheduled work hours effective the date of withdrawal.
How will I submit my timesheet?
Supervisors will submit student payroll forms on behalf of students. Students ARE NOT required to SIGN the form nor submit the form.
How will checks be distributed?
Domestic students:
Checks will be mailed to the address on file. Please verify your address in mySAU. Please email change of address to studentaccounts@saumag.edu before Wednesday, March 18, 5:00 PM.
The wire option is only available for our international students.
International students:
For international students without a domestic bank account, a wire request form is attached to this email and will be available online.
What if I want to continue to work?
Contact your supervisor. Supervisors can determine the NEED for you to continue working, but the changes implemented to payroll applies to all student workers without exception.
SAU is taking this proactive measure to provide our students the financial resources they need without the concern of choosing between remaining on campus or returning home for a period of time. During this public health crisis, we seek every opportunity available to serve our students, faculty, staff, and campus community.
If I want to work on campus after spring break, do I have to stay on campus during the break?
Students are not required to return to campus to work following spring break. Students workers received benefits through the end of the semester without meeting work requirements to allow students to return home for the remainder of the semester if they choose to do so.
Any student who has been off-campus and chooses to return will be screened prior to reentry. Screening will require completion of a travel questionnaire, and if necessary, students may be required to self-quarantine for 14 days prior to returning to campus.