Mask Up Muleriders
All students will receive 2 Signature Mulerider masks to mask up in official SAU Mulerider style!
August 5th-10th– All students living on campus will receive their complimentary masks at their assigned University Housing check in day/time.
August 9th– All incoming freshmen will receive their complimentary masks at Mulerider Round-up.
August 9th– 10th– Late registration students will receive their mask in the Academic Advising Center as they register for their fall 2020 classes.
August 9th– 11th a table will be set up from 9:00 am – 5:00 pm in the SAU Mall Area for students to pick up their signature Muleirder Mask.
What is the University's policy on face coverings?
All faculty, staff, students, and visitors are to wear an appropriate face covering while inside campus facilities/buildings where six feet social distancing may not always be possible. Face covering use will be in addition to and is not a substitute for social distancing.
All faculty, staff, students, and visitors are to wear an appropriate face-covering outdoors when social distancing is not possible.
When are face coverings not required?
Face coverings are not required in one's own dorm room or suite, when alone in an enclosed office or study room, or in campus outdoor settings where social distancing requirements are met. Reasonable accommodations may be made for those who are unable to wear a face covering for documented health reasons.
Classes
What are the classroom safety protocols?
Face coverings (covering the mouth and nose) will be required at all times in all classrooms, any building space, during transit, and when meeting with others. If students have a medical condition that makes face covering impossible, they should contact Disability Support Services for an appropriate accommodation. Faculty delivering lectures must wear face coverings and should remain at least six feet away from the nearest student. There should be a taped, marked-off area in classrooms denoting the six-foot boundary.
What is the policy for office hours?
Faculty office hours will be held virtually, and the manner of contact (Blackboard Collaborate, Zoom, etc.) will be indicated in the syllabus.
What resources are available to face-to-face students transitioning to online classes?
Blackboard Support
All SAU students have access to a Blackboard Orientation on the Blackboard homepage. While this is not a required orientation, students are encouraged to explore and familiarize themselves with Blackboard and its many tools.
Finally, all students have the option to request support using one of the following methods:
Email to helpdesk@saumag.edu;
Call or Chat with our 24/7 Blackboard Support.
In your request, please be specific about the course you are working in and the issue you are experiencing. You may also include a screenshot or a video of the problems you are experiencing to help our support team better troubleshoot your issue.
Students will not be charged for the additional expense of moving all course delivery to online platforms and using any online testing services.
Academic Support
Faculty will host virtual office hours following this transition. Virtual advising is available to help students register for fall classes. Because some course work requires special computer equipment, access to certain technical labs remains open through the end of the semester. 
How do I need to return my rented textbooks?
Please follow the step by step instructions below to get a pre-paid UPS return label to use to ship back your books.
How to retrieve your pre-paid UPS label:
Go to saumag.bncollege.com
Click TEXTBOOKS on the left side of the top toolbar
Select TEXTBOOK RENTALS from the drop down menu
Scroll down until you see RENTAL RETURN on the right hand side and click on RENTAL RETURN
A new page will load and you will enter your Order ID (your order number) and your email that was used to place the order
Click submit to access your free UPS return label
Print the label
Pack your book up in a box (include your name and phone number in the box with books), seal it, and attach the label you printed to the outside
Drop off at a UPS pick up location
The label will be accessible until the due date.
A few reminders about rented textbooks:
You can highlight and take notes in your book
Keep your books safe and dry
If you have any questions, please feel free to send us an email at sm8268@bncollege.com. Thank you for shopping with us and have a great semester!
---
Facilities
Where is WiFi strongest on campus?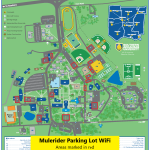 While many of the campus's buildings are closed, SAU's WiFi network is still accessible to students. For your convenience, a map of the best WiFi hotspots has been produced. Click the image to the left to view the map full-screen.
Download the map.
What are the protocols regarding sanitation?
Classrooms should be deep cleaned a minimum of once daily. Labs will be cleaned prior to the beginning of the day and once during the day.  Faculty are not responsible for sanitizing classrooms or labs.
What are the safety protocols for the Mulerider Activity Center?
Lockers may not be used at this time; the number of users allowed at one time will be limited to accommodate social distancing guidelines. All equipment will be cleaned daily prior to using. Hand sanitizer will be available throughout the facility. Face coverings are required except when actively exercising.
What about the Aquatic Center?
Until further notice, the SAU Aquatic Center is closed to SAU faculty, staff, and students.
What about studies and resources available at Magale Library?
Please see https://web.saumag.edu/library/ for detailed information concerning COVID-19 and the Library.
Can prospective students still tour campus?
On campus tours will be available again beginning June 15. For more information about admission status or the admissions process, please contact the Office of Admissions at 870-235-4040.
We invite prospective students to view this video for a glimpse into life of our campus:
---
Travel and Health
What to do if I have a health issue?
For students, faculty, and staff who have a health issue that prevents the use of typical face coverings, contact University Health Services at (870)235-5237 or email uhs@saumag.edu.
What do I do if I or someone I know tests positive for COVID-19?
Anyone identified as a primary contact of a positive COVID-19 case must self-quarantine for 14 days and complete daily personal health screenings. On a case-by-case basis, individuals may return to campus sooner than 14 days following increased protective guidelines and with authorization from UHS.
What are the protocols for quarantine?
Students, faculty, and staff must notify UHS if they have been in close contact with someone who has tested positive for COVID-19 or has displayed symptoms. Faculty and staff who test positive should self-isolate at home. In exceptional cases (e.g., when others at home are at high risk for COVID-19 complications), the University may be capable of providing accommodations.
Travel
Follow the travel guidance provided by the CDC, posted below for your convenience.
Travel to certain regions should still be avoided. These are defined as regions in which reports indicate continued upward trends of positive cases. Please use the interactive map provided by Johns Hopkins University (JHU), which is updated daily and is searchable not only by state but by each county in the US. Check the map every day for several days prior to travel. Note that the colors on the map indicate standard deviation and are not indicative of cases. See example below.
If travel is essential to an area where positive cases continue trending upward according to the JHU data, you must contact UHS and report the travel when concluded. Do not come to campus until cleared by UHS.
Follow CDC and UHS guidance for both your and others wellbeing.
Failure to comply with mandatory procedures meant to mitigate the spread of COVID-19 to the campus of SAU may result in disciplinary action within SAU employment guidelines.
---
Events
What is the policy regarding events?
No indoor on-campus events sponsored by external (non-SAU) groups will be permitted during the fall semester. Outdoor events will be approved on a case-by-case basis. For outdoor events, face coverings will be required when social distancing cannot be maintained.
What about athletics on campus?
Please see saumag.edu/coronavirus/athletics for information concerning athletic requirements.