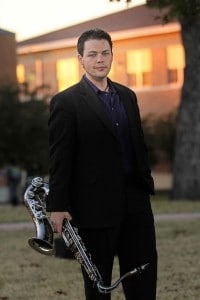 The smooth, mellow sounds waft across campus serenading all who are close enough to hear the music in the coolness of the evening. The golden tones come from the saxophone of senior music education major Austin Thompson. The mournful melodies bring to mind old fashioned street performers sharing their gifts.
In Thompson's second semester at SAU he began playing his guitar outside much to the delight of passers-by. More recently he began playing his saxophone in the swing under the moonlit bell tower or outside of Reynolds. Initially afraid that his music would disturb evening classes, he soon realized people were enjoying his playing.
"I figured if someone stopped to listen then it must not sound too bad," he said. "Then I started seeing that people stopped to listen a whole lot more often than I thought."
Some of his favorite places to play are the duck pond, the Greek theater, the mall area and Java City. He feels playing outside gives him new acoustic environments he wouldn't normally experience, and playing for others gives him practice in playing for an audience.
"The mall area and Java [City] provide me with a continuously circulating audience," said Thompson, "Meaning that if I want to play the same thing a couple of times in a row, I can usually get away with it."
Growing up in central Arkansas, Thompson always had an artistic mindset and loves art – drawing and painting- but decided that he didn't want to be like other artists who were only known for one type of medium. Instead, he decided to learn as many arts as he possible. Eventually he signed up for band and realized after about four years of playing the saxophone that music was really his first love.
He credits his family with being supportive of every endeavor he has pursued.
"My parents are the very best parents anywhere…, hands down, no argument, no contest," he said.
Thompson said his parents have supported every decision he's made and helped guide him through problems without attempting to change his course.
Once he graduates from SAU, he intends to pursue graduate school. He has his options laid out and has a tentative schedule of where his life is going for at least the next three years.
The most memorable experience he's had on campus was when he moved in as a freshman and had to explain to his new roommate why he had a Bugs Bunny quilt that looked like it was made for a 10-year-old on his bed. He related that his grandmother made it for him when he was 10 years old and he keeps her memory close through that quilt.
Dr. Dykema is Thompson's favorite professor, but also has given him the most challenging course – written music theory III.
"Even for someone with a broad mind, this class stretched it to the breaking point and beyond," said Thompson.
It's this kind of challenge that has made his time here at SAU so enjoyable. The most valuable lesson he has learned from Dr. Dykema is that music is felt internally first before it can be shared externally.
His proudest moment came when he played his own composition as the finale to his senior recital. He said it received a better reception than other pieces that had been written by well known composers.
Music isn't the only thing Thompson feels he does well. He's also into chess, gaming, drawing, painting, sculpting, crocheting, sewing, cleaning, working on cars, playing music, writing, reading, leatherworking, hiking, fishing and cooking.
With such an array of skills it's easy to see that Thompson has taken his own advice to heart as he nears graduation.
"Let no one get in your way… and take no prisoners," he said. "Your life is your own, so make the most of it."