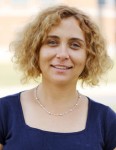 Dr. Antoinette Y. Odendaal
Assistant Professor of Biology, L.A. Logan Professor of Biology, NRRC Research Associate
Educational Background:
Postdoctoral Researcher, Indiana University (2009–2011)
Ph.D. in Chemistry, University of New Hampshire (2009)
B.A. in Chemistry, University of Southern Maine (2003)
Research:
Toxicology of natural product isolates
Ecotoxicology
Technologies for natural product isolation
Organic synthesis
Design of inquiry-based biochemical experiments
Scientific affiliations:
American Chemical Society, 2006 –present.
Classes:
Biological Sciences
Anatomy and Physiology
Organic Chemistry
Recent Publications:
Antoinette Y. Odendaal and Alexander G. Schauss, Chapter 18 – Potent Antioxidant and Anti-Inflammatory Flavonoids in the Nutrient-Rich Amazonian Palm Fruit, Açaí (Euterpe spp.), In Polyphenols in Human Health and Disease, edited by Ronald Ross Watson, Victor R. Preedy and Sherma Zibadi, Academic Press, San Diego, 2014, Pages 219-239.
Odendaal, A. Y.; Deshmukh, N. S.; Marx, T. K.; Schauss, A. G.; Endres, J. R. and Clewell, A. E., Safety assessment of a hydroethanolic extract of Caralluma fimbriata. Int. J. Toxicol. 2013, 32 (5), 385–394.
Garber, K. C. A.; Odendaal, A. Y.; Carlson, E. E.Plant Pigment Identification: A Classroom and Outreach Activity. J. Chem. Ed. 2013, 90 (6), 755–759.
Odendaal, A. Y.; Fiamengo, A. L.; Ferdani, R.; Wadas, T. J.; Hill, D. C.; Peng, Y. J.; Heroux, K. J.; Golen, J. A.; Rheingold, A. L.; Anderson, C. J.; Weisman, G. R.; Wong, E. H., Isomeric trimethylene and ethylene pendant-armed cross-bridged tetraazamacrocycles and in vitro/in vivo comparisons of their copper(II) complexes. Inorg. Chem., 2011, 50 (7), 3078-3086.
Odendaal, A. Y.; Trader, D. J.; Carlson, E. E., Chemoselective enrichment for natural products discovery. Chem. Sci., 2011, 2 (4), 760-764.
Ph.D. Dissertation: Odendaal, A. Y., "A Modified Synthesis, C-Functionalization, Resolution and Racemization Kinetics of Cross-Bridged Tetraazamacrocycles", Ph.D. Dissertation, University of New Hampshire, 2009.